DAYSPLAN FOR
Employee Vacation Tracking
The all-in-one platform for making time off requests, tracking PTO, and syncing with your Calendars.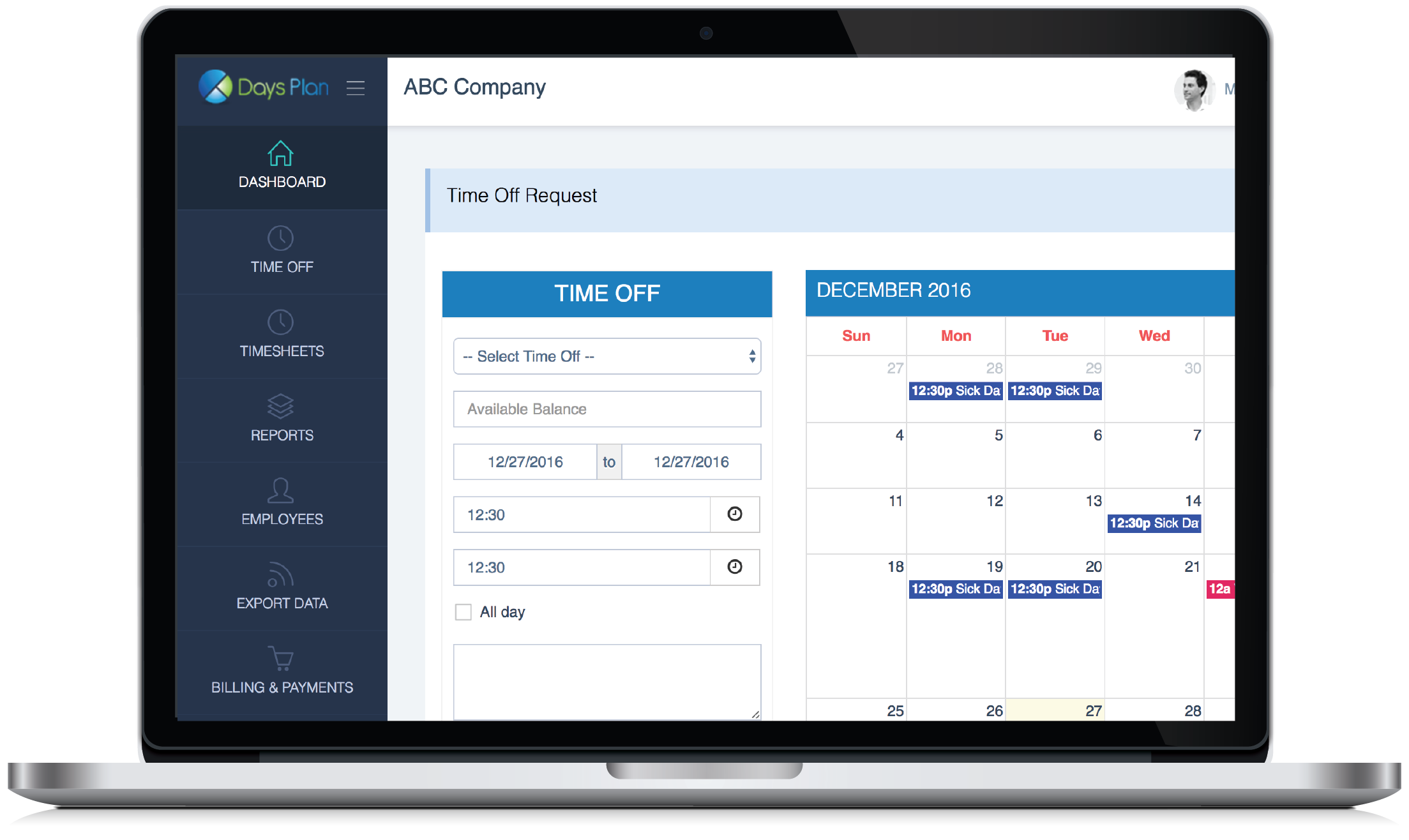 The DaysPlan Vacation Tracking for Leave Management is designed to be a self-service, customizable platform. Onboard your employees, setup your departments, accrual rules and watch the software do the rest. For your employees, the steps are simple and the reporting is detailed, leading to an overall satisfaction for all.
We know that the setup process can be daunting for some. That is why, we have a free Data Setup feature for you. You can send us your employee data, accrual policies and let the DaysPlan support team get you up and running.
DaysPlan Vacation Tracker
Customize
Set up multiple work schedules for employees. Then, create an unlimited amount of time off categories and establish rules for how your staff will accrue that PTO.

Onboard Employees
Single Sign-on – use your network
30+ Time Off parameters
Accrue by Calendar/Hire/Anniversary dates
Auto Approve (optional)
Custom Work Schedules


Request Time Off Anywhere
DaysPlan is cloud-based, so employees can submit time off requests from any computer. Our mobile app makes requesting easy from anywhere.

Cloud-based – Available 24x7
Mobile apps – iOS and Android
Supports International Date Formats
Supports multiple Regions/Countries for a company
Multi-lingual
Team Calendar Views
Easily create teams of employees so that your staff can see when other team members will be out of the office. Planning meetings and group work just got a lot easier.

Sync with Outlook or Gmail Calendars
View the Team on a calendar
Company-wide Views
Instant Updates


Convenient Notifications
Time off requests, messages, and other notifications within DaysPlan also get sent to your email so you can always stay updated on requests and approvals.

Customize Email recipients
Delayed Send forward
Display Notifications
Export Data
Easily create a custom spreadsheet of any employee's time off data for outside use.

Export to CSV or PDF
Customize export columns
Define custom selections
Online integration coming soon

EVERYTHING YOU NEED TO
Track Employee Vacation
Start today with a Free Trial. No credit card required.